Desperate Housewives, a show that has had a special place in my heart for the last 8 years comes to what will be an emotional end in just 4 weeks time. As I mentally prepare myself to say goodbye to Wisteria Lane and all the characters that I have grown to love, part of me is eagerly anticipating Marc Cherry's new show; Devious Maids.
When I first heard about this, the truth is that I laughed out loud and thought to myself surely not. I mean could Cherry, the producer of DH even attempt to recreate 'the legacy' (as Eva Longoria herself called it earlier this week) that is Desperate Housewives. With a name very similar it is evident that comparisons will be made.
In actual fact, I am slowly being swayed into thinking that this new show could just be brilliant. Marc Cherry in my eyes is a genius after all and if you didn't already know, Eva Longoria who plays Gabrielle Solis in Desperate Housewives is the executive-producer. I think it is definitely something to keep an eye on but whether or not it will have the same success as Desperate Housewives; I am not so sure.
Devious Maids focusses on four Beverly Hills Housekeepers who all have Latin American origins, keeping the show diverse as it is actually based on a Mexican telenovela. From spending a substantial amount of my life visiting South America myself, I know for a fact that these telenovelas can be so very good and VERY addictive.
In the meantime, the 2 hour Season Finale of Desperate Housewives airs on May 5th in the US.
As always, your comments make me smile and if you love Desperate Housewives like I do; follow me on twitter- I love to talk about the show!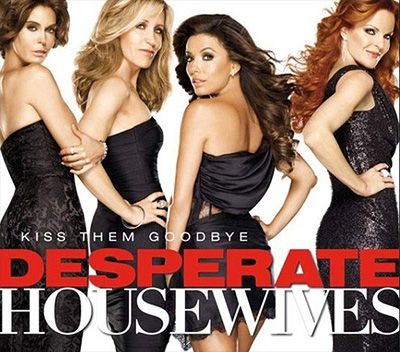 On the set of Devious Maids


*I do not own any of these photographs.